All the images on this page are copyright of Tiger Girl. They are free to download and free to use, provided that the button below is added with a link back to http://www.50megs.com/webtrip/. No graphic may be changed in any way, except to add custom text to the buttons or title graphics. If you use these graphics for your page, please e-mail me and let me know. That way I can link your page here, and that means more hits for both of us!

Text: #000000
Link: #5D6596 or Link: #377DAC
Visited Link: #858DBD or Link: #5FA6D4
Active Link: #ffffff

The font used here is called Continuum Regular. I can't remember where I got it! :(
---
To download images from Windows: Right click on the image, and choose "Save this Image As..."
To download images from Macintosh: Click and hold on the image, and choose "Save this Image As..."
Do not link to my URL for these images! Save them into your own account. They are made for this background or a plain background of hex code ffffff.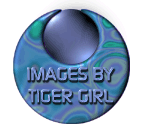 About the Alien Amulet Set
Right. I have no idea where this one came from.
I got Kai's Power Tools at long last, and fired it up on my all-too-pokey machine. This here is what I came up with. The transparencies and the shadows are a little off unless they hit the background just right -- a plain white one might be better. Or maybe I'll make a whole new one. This set seriously taxed my brain. :) I haven't yet figured out how to make all the things I'm going to need at one time so that they look the same. My Kai's sets will get better as time goes by!
The interface up top is available in ZIP file for easy download. This ZIP file includes:

sixteen button images with text -- eight "on", eight "off" for Javascript rollovers
sixteen button images without text to be filled in with your favorite graphics editor
the attribution image that must go with any set you use from this site.
Enjoy it! And don't forget to e-mail me if you decide to use it!

---
Created October 5, 1999.